FP Analytics Synthesis Report
FP Tech Forum
Fostering greater connectivity in an increasingly fractured world
On September 21, 2022, Foreign Policy hosted its second annual Tech Forum. The Forum, which was held alongside the 77th convening of the UN General Assembly in New York City, convened leaders from government, industry, and civil society to discuss the future of tech governance and forces impacting connectivity globally. The conversations shed light on the risks associated with growing protectionism, authoritarianism, and techno-nationalism, which could fragment global markets, inhibit innovations' potential to reach scale, and undermine the international collaboration that is needed for health, safety, and security in the digital age. In the face of ongoing challenges including the war in Ukraine and the COVID-19 pandemic, the Forum covered a range of issues related to semiconductor and high-tech supply chains and cybersecurity workforce readiness, and highlighted opportunities for diplomacy and cross-sectoral partnerships that can foster greater connectivity and advance democracy and development around the world.
Watch highlights from FP's 2022 Tech Forum here and read on for insights from the event.
The FP Tech Forum was held in partnership with Google, IBM, Qualcomm, Meta, Illumina, Capital.com, and AARP. FP Analytics produced this synthesis report with support from Google.
The Role of Digital Diplomacy in an Increasingly Fractured World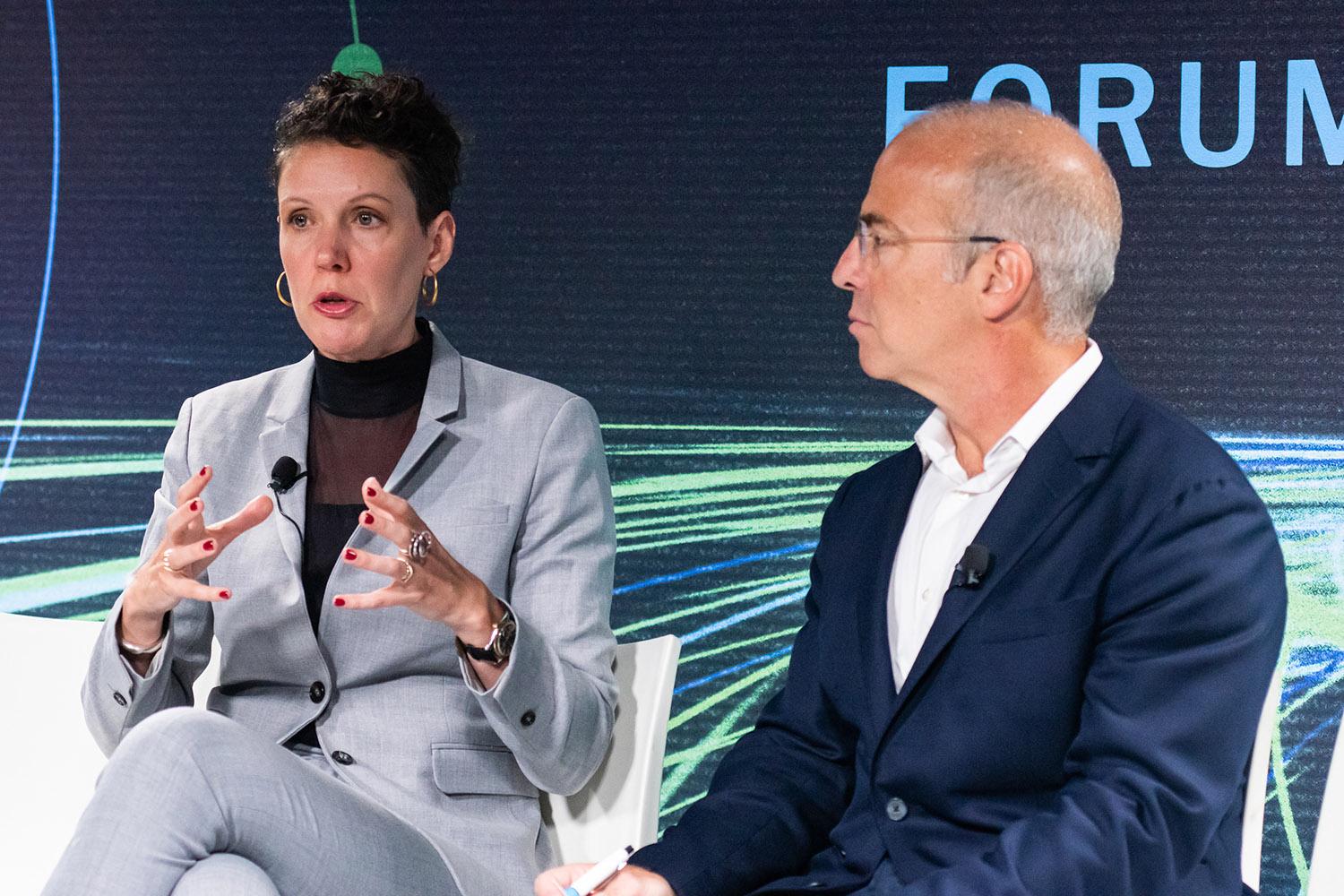 Participants
Ambassador Anne Marie Engtoft Larsen, Danish Tech Ambassador
Moderator: Andrew Sollinger, Publisher & CEO, Foreign Policy
---
Key Takeaways
Tech diplomacy aims to facilitate global cooperation on technological trends shaping a digitized world. It seeks to address cybersecurity and technology challenges related to internet governance, peace and security, human rights, trade, and economic development.
Mis- and disinformation are increasingly being weaponized by authoritarian governments to undermine the core pillars of democracy. Multistakeholder collaboration across governments, tech companies, civil society, and multilateral organizations can help to ensure that technology is leveraged to promote democratic values and ideals.
Governments are lagging on tech regulation and need to collaborate with the tech industry to proactively address new challenges from emerging technology areas such as artificial intelligence, quantum computing, biotechnology, and the metaverse. Particular attention to environmental, social, and economic aspects will be critical to ensure that societies have a meaningful, inclusive online experience.
Expert Insights
"There's a war going on the ground [in Ukraine], but there is also an information war taking place online. . . . This is not only about immediate narratives, but this is ultimately about trust in the institutions. We must find solutions to problems that are very challenging and fight for freedom, human rights, right to self-determination, and for democracy."
"We need to find a better way of addressing platform accountability, especially mis- and disinformation. . . . We need diplomatic engagement with platforms, because, while there is a lot of regulation coming from Brussels, it's not going to solve everything. There are still going to be challenges around how tech is playing out in our society, and that's where diplomacy comes in, because we're going to have to solve some of that in conversation [and] in collaboration."
Additional INSIGHTS FROM FP ON Digital Diplomacy
Cybersecurity and Democracy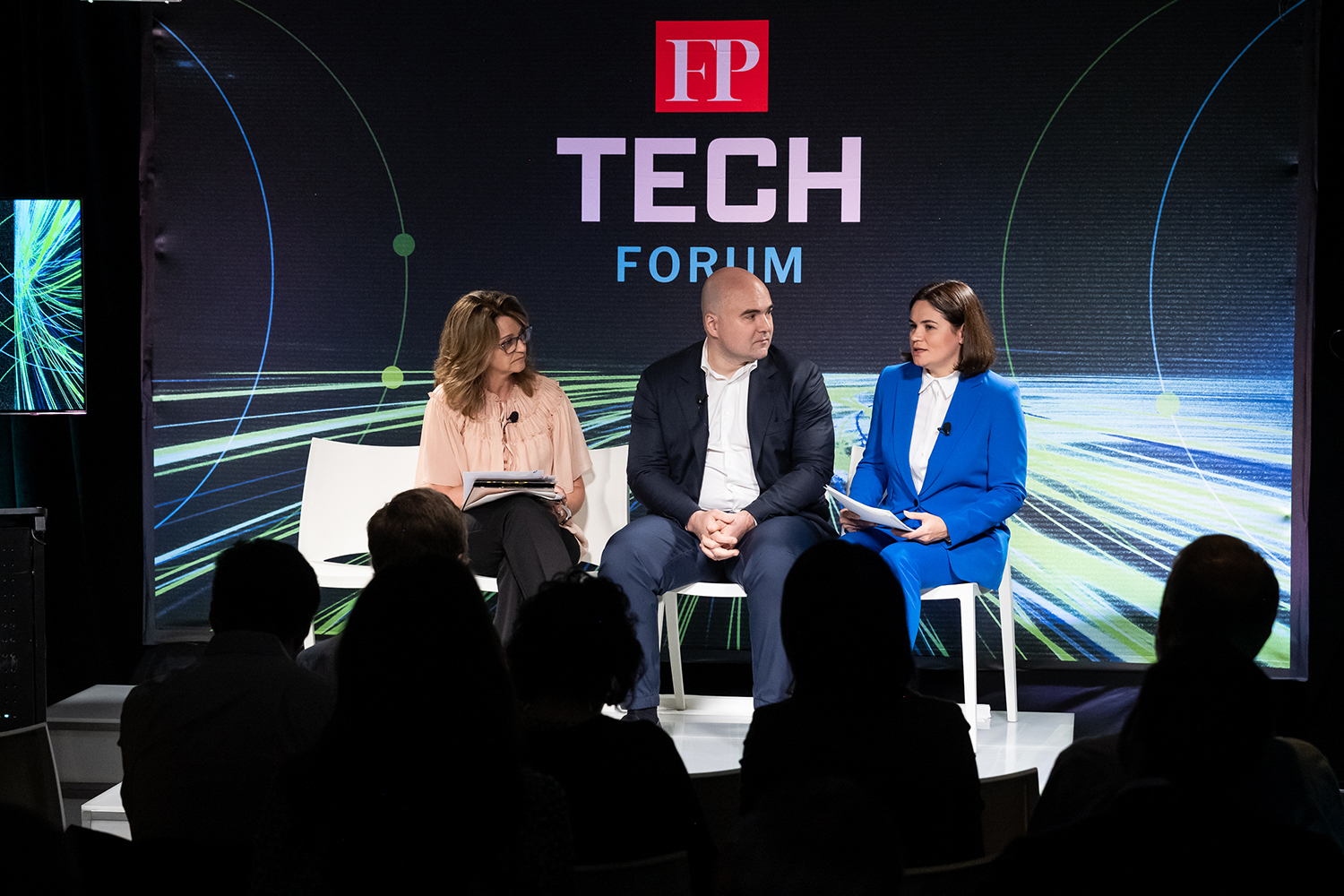 Participants
Victor Prokopenya, Founder, Capital.com
Sviatlana Tsikhanouskaya, Leader, Belarusian Opposition
Moderator: Maggie Lake, Veteran Journalist and Founder, Maggie Lake Media
---
Key Takeaways
In an increasingly interconnected world, companies are facing heightening risks of cyberattacks, especially during times of conflict, such as in Ukraine. Such attacks demonstrate the escalating use of cyber tools and a willingness by state actors to target public and private infrastructure.
Tech companies have an important role to play in protecting and strengthening democratic values and ideals by providing hardware and critical services such as satellite communications in tightly controlled information spaces.
Despite challenges, information and communication technologies and platforms are largely serving as useful tools to strengthen democratic efforts and institutions—from collecting information online about Russian troop movements in Belarus and Ukraine to using new technologies to create an alternative vote-counting system.
Expert Insights
"Technology helps democracy, but it also creates opportunities for anti-democratic forces. . . . It requires constant evaluation of everything which is going on, and it is very important for everyone to understand this and not treat this all with too much fear."
"Technology is our main ally. It's extremely important that tech companies are on the side of those fighting for freedom. I would like to call [on] other large companies and organizations not to cooperate with Lukashenko's regime. . . . Supporting democratic values and human rights are not an internal affair. This is the obligation of every democratic country."
Additional insights from FP ON CYBERSECURITY AND DEMOCRACY
Technology for a Greater Global Connection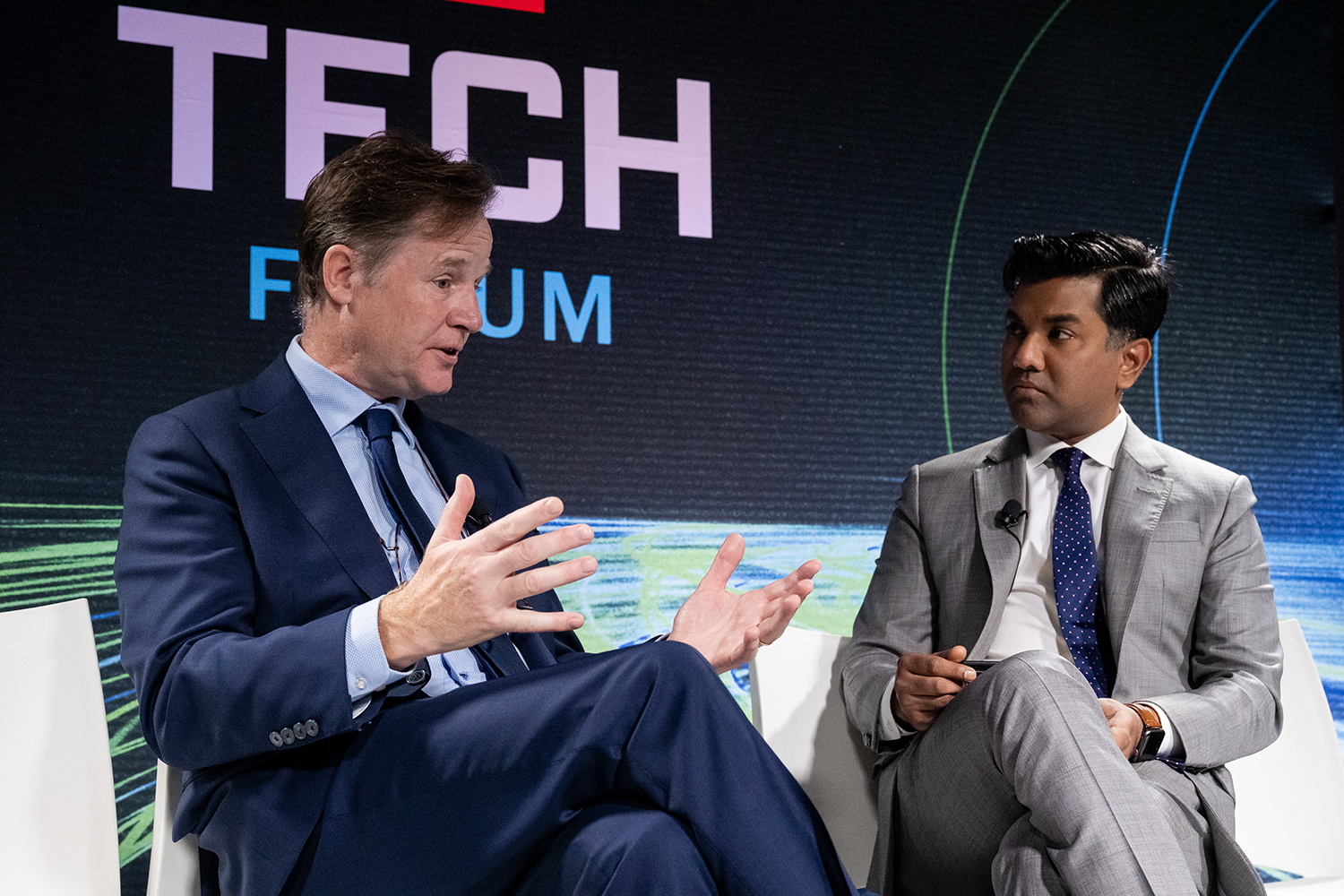 Participants
Nick Clegg, President, Global Affairs, Facebook
Moderator: Ravi Agrawal, Editor-in-Chief, Foreign Policy
---
Key Takeaways
Data fundamentally differs from commodities such as oil in that it is not a fungible good and the quality of data collected matters significantly to its utility and impact on the global community.
Public-private sector partnerships are central to addressing issues related to privacy, cybersecurity, and content moderation.
There is a lack of uniformity across countries regarding content moderation, and a need to develop rules to encompass a diversity of languages and cultures around the world.
Expert Insights
"As a society, we go through growing pains about how to deal with data-intensive industries and evermore frictionless forms of communication. There's a huge difference between guardrails and roadblocks, and I think that [differentiating them] is what many regulators are wrestling with."
"Power is given to people and that's the essence of social media. [Social media] emancipated people to express themselves—not to be told what to think by a religious leader, political leader, and national leader. It allows people to express themselves effortlessly and without friction on a scale pretty well unknown to humankind."
Additional insights from FP ON GLOBAL CONNECTION
Enhancing Digital Inclusion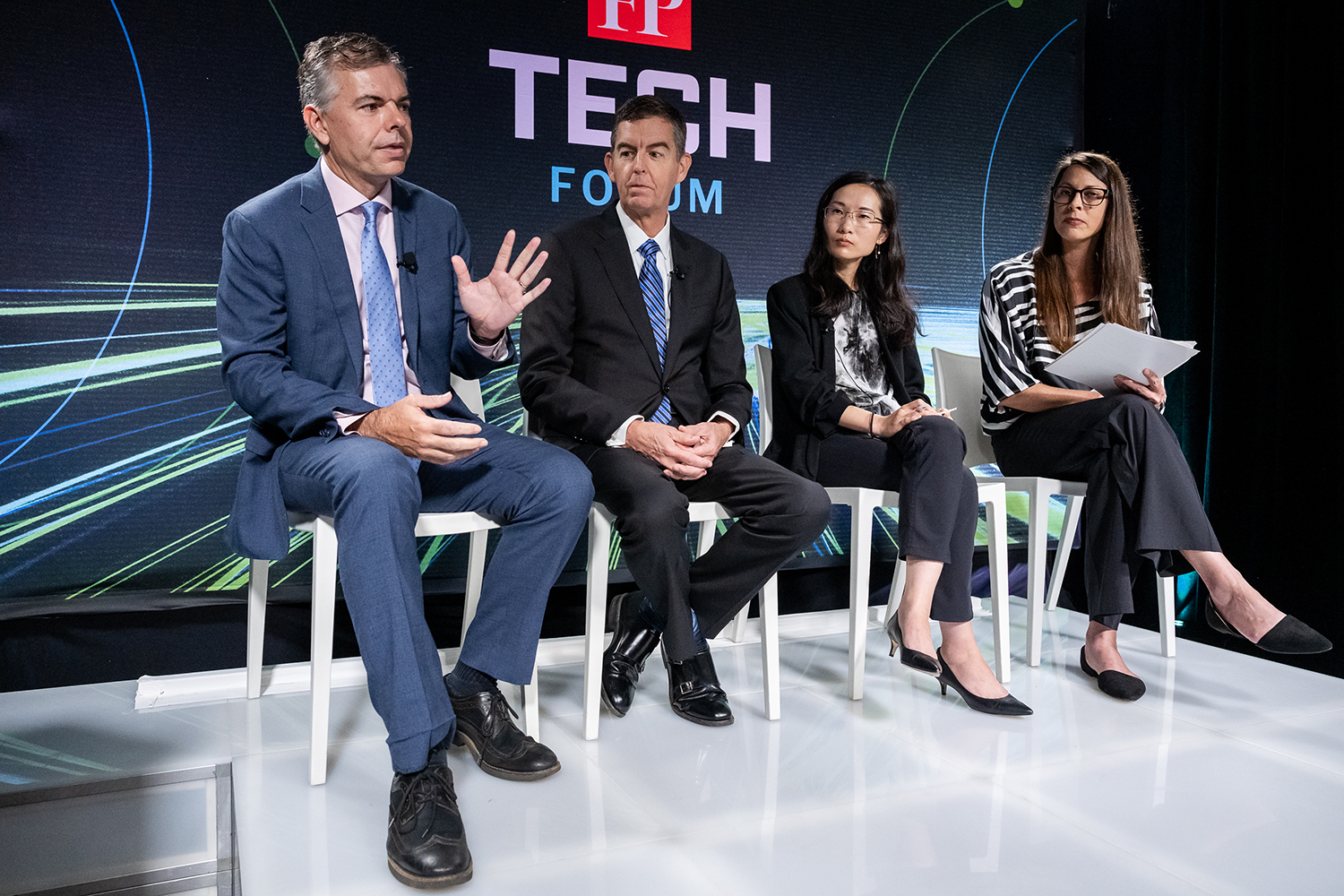 Participants
Michael Phillips, Director, Technology Strategy & Relationships, AARP
Paul Mitchell, Chair, Multistakeholder Advisory Group (MAG), UN Internet Governance Forum
Yolanda Jinxin Ma, Head of Digital Diplomacy and Global Partnerships, UNDP
Moderator: Allison Carlson, Managing Director, FP Analytics and Events
---
Key Takeaways
Thirty-seven percent of the world's population—approximately 2.9 billion people—are not connected to the internet, and 96 percent of those people are in developing countries. Older adults are over-represented among those who are not connected to the internet.
Governments need to design strategies, develop tools, and allocate resources to reach marginalized communities most effectively, including older adults, to expand internet connectivity. To that end, concerted action will be required to overcome barriers related to infrastructure, affordable access, skills, and literacy training.
There are three layers of inclusive design and investment. The first is investing in infrastructure to enable a digital environment to bring in different communities. The second is investing in people by bringing them into the policymaking process to create a digital economy strategy based on what marginalized communities need. The third is investing in the ecosystem to ensure that there are incentives in place for different stakeholders to come together to address digital inclusion jointly.
Expert Insights
"A lot of designers and developers see accessible design and age-inclusive design as the same thing, but we know that it's not. Accessible design can be part of that, but there's a lot more to focus on the standards around disabilities and differently abled people. What is missing in the design process around all technologies is understanding that non-digital natives and digital natives adopt, use, and navigate technology differently, and there are specific needs required for that."
"The first thing to get done is the thing that gets measured. For so long, we've measured things based on money, but we haven't necessarily measured them on the basis of a trajectory, a skills-based trajectory. We haven't deconstructed the ecosystem so much that we understand all the component parts that need to be measured."
"Digital inclusion or inclusive digital transformation by design is something that needs to be done intentionally, that needs to be inclusive, sustainable, but shouldn't come as an afterthought, because the cost of not thinking of that beforehand would be really high, and that would actually bring more injustice and more social inequity afterward."
Additional insights from FP ON DIGITAL INCLUSION
Technology and Global Health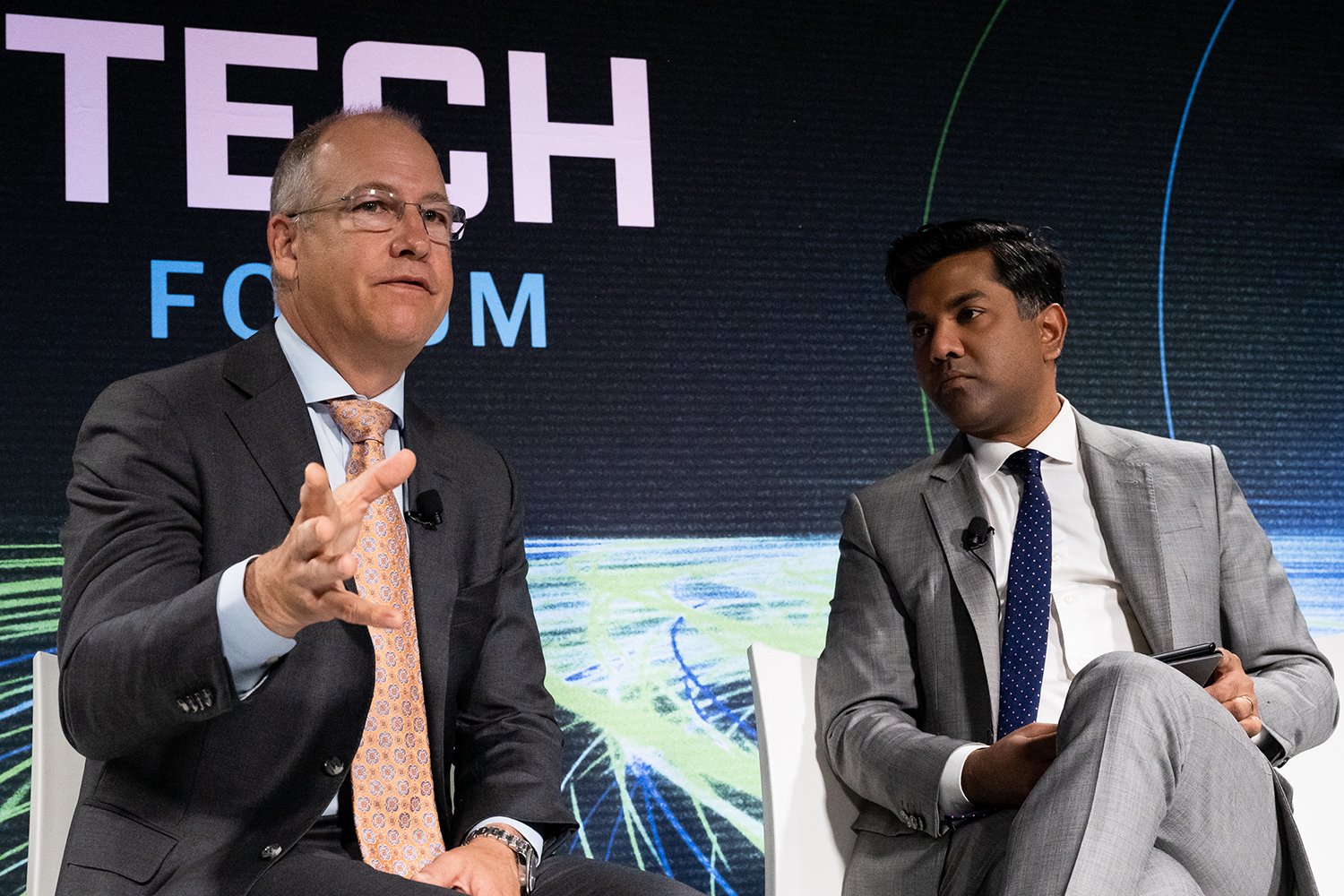 Participants
Phil Febbo, Chief Medical Officer, Illumina
Moderator: Ravi Agrawal, Editor-in-Chief, Foreign Policy
---
Key Takeaways
Gene sequencing is playing a vital role in the global public health response to the COVID-19 pandemic by tracking changes among the variants to better inform diagnostics, vaccine development, and treatment.
Increased access to genomic technology and data, particularly in low- and lower-middle-income countries, is crucial to addressing global health equity. Equitable access to genomics relies on capacity-building, sustainable investments in the workforce and local infrastructure, and public-private partnerships.
Expert Insights
"Technology has expanded our lifespan over the past century as human beings. Technology has produced the biggest expansion in human productivity per lifespan over the past hundred years. This has the potential to continue to do that and will drive towards that good. But we have to do it in a responsible way."
"Sequencing technology, whether it's for the pandemic, community health, or non-communicable diseases, is no longer relegated to just the higher-income countries. It's now accessible to lower-middle-income countries, but it takes commitment and ecosystem to make it work."
Additional insights from FP ON TECHNOLOGY AND GLOBAL HEALTH
Strengthening the Tech Workforce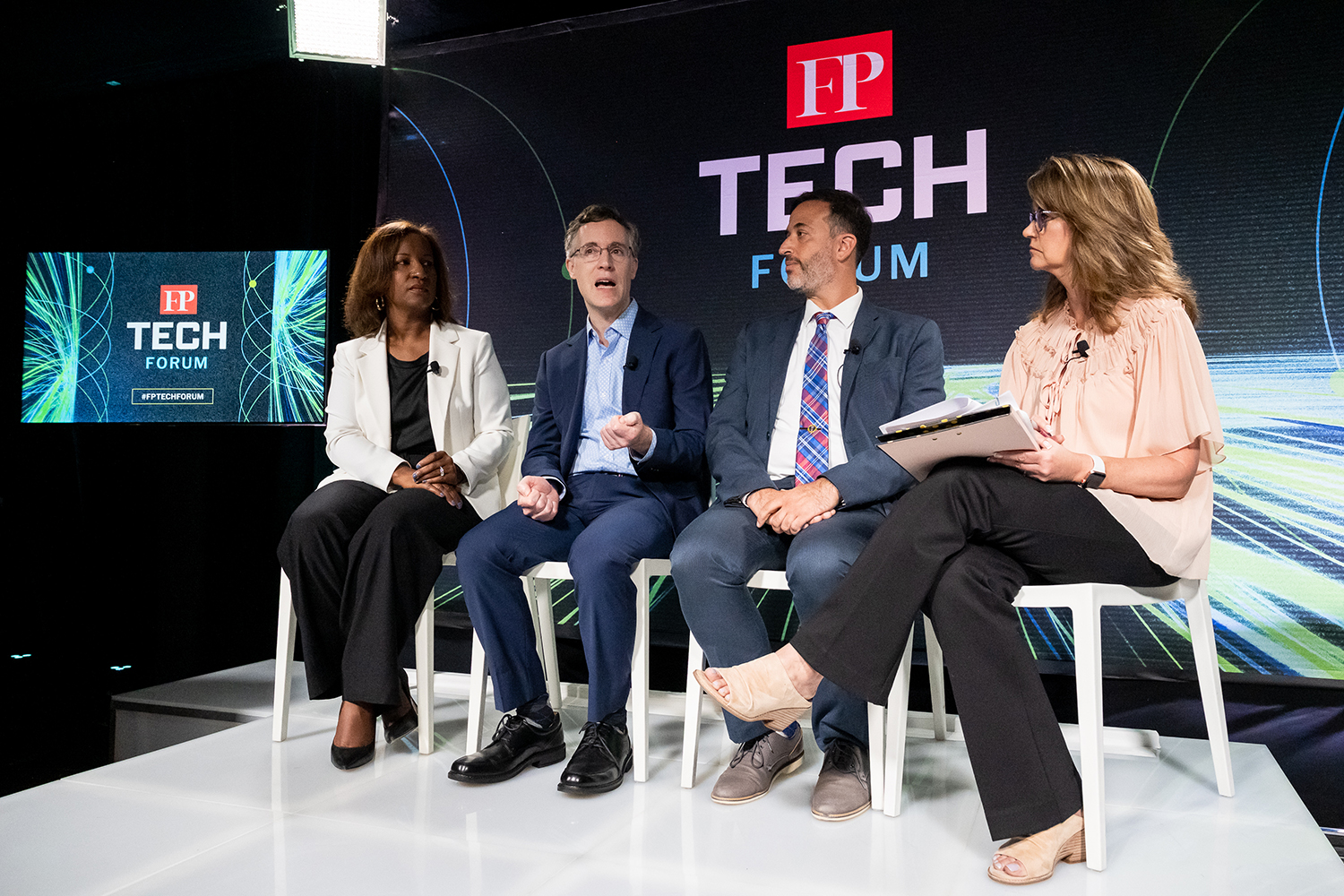 Participants
Justina Nixon-Saintil, Vice President, Corporate Social Responsibility and ESG, IBM
Jonathan Finkelstein, Founder and CEO, Credly
Rob Seidner, Director of Government Partnerships, edX
Moderator: Maggie Lake, Veteran Journalist and Founder, Maggie Lake Media
---
Key Takeaways
Over one billion jobs will be "radically transformed" by technology by 2030 because of technological advancements. The public and private sectors need to ensure that the global workforce can adapt to acquire the basic skills to be successful in an increasingly digitally driven world.
Partnerships and trust are central to strengthening the tech workforce, especially for those who need to be reskilled and cannot rely on conventional degrees. Civil service and the public sector have an opportunity to change job requirements and provide skills training that could ultimately improve internet governance.
Expert Insights
"When you think about the number or types of skills that are needed [amidst this global digital transformation], you have a continuum from basic digital skills to coding skills to artificial intelligence, data analytics, cybersecurity, and cloud computing. You need all those hard tech skills and workplace learning skills. . . . It's not something you can get all at once. How do we make sure we look at platforms where you can exchange those skills and scale, that are industry-recognized and are transferable?"
"We'll spend most of our lives working or in professional settings, not in traditional learning environments. Enterprises are becoming the new colleges and universities. They are moving more towards how we credential and recognize learning while universities and colleges are saying, 'How do I become more like an enterprise in demonstrating the employability of the people that I train?' They're both moving towards each other. The common element in bringing supply and demand together is real-time communication around the needs in the marketplace and the skills and where they're being developed and a recognition that they happen on both sides of that fence."
"So much of [the solution to strengthening the tech workforce] is just the democratization of elite education. . . . We have the technology to have the top classes go anywhere in the world and be able to partner together . . . the idea is, 'How do you keep people with quality jobs where they live now?'"
Additional insights from FP ON THE TECH WORKFORCE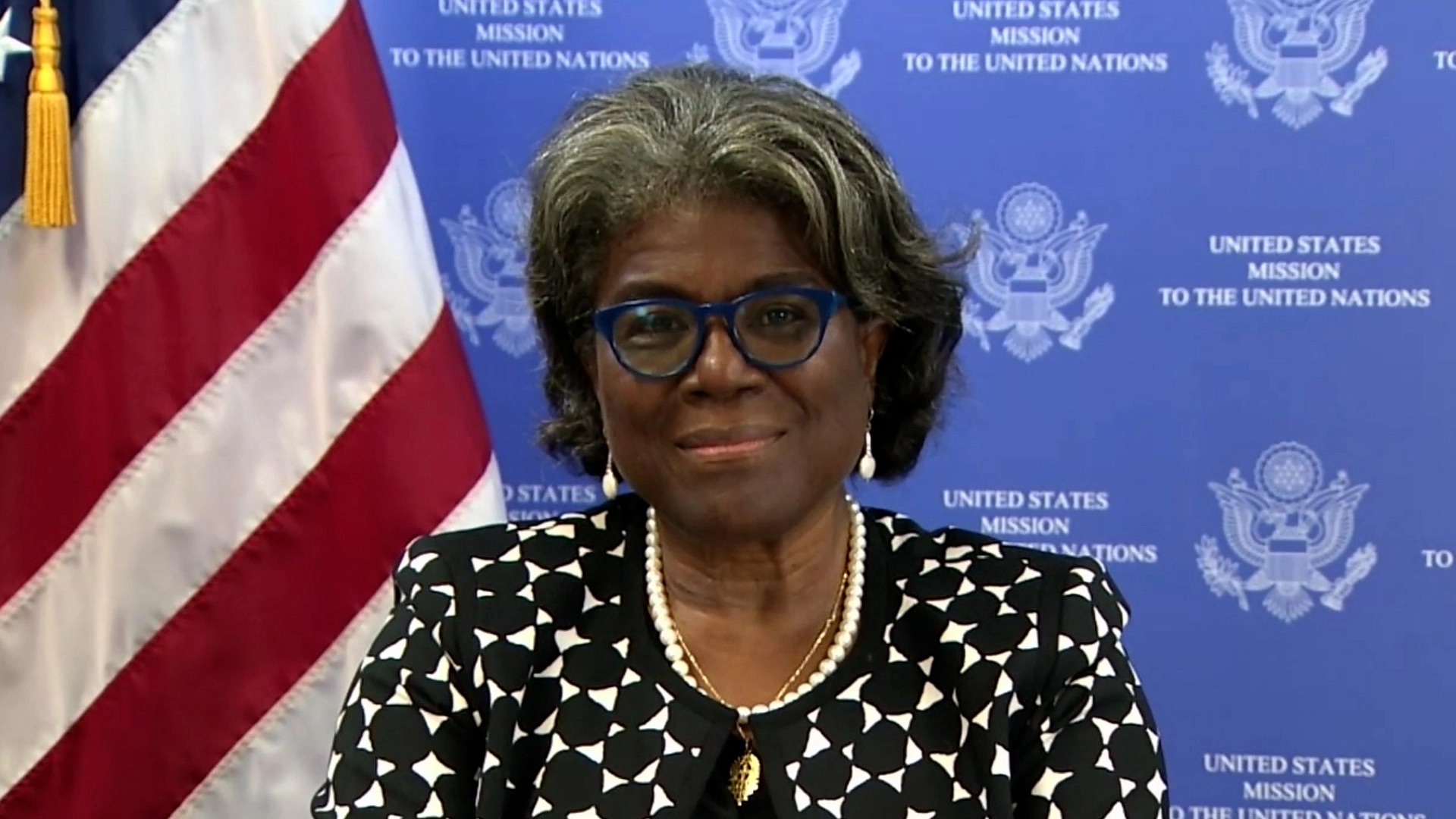 Participants
Linda Thomas-Greenfield, U.S. Ambassador to the UN
Moderator: Ravi Agrawal, Editor-in-Chief, Foreign Policy
---
Key Takeaways
Against the backdrop of the ongoing war in Ukraine, there are growing concerns that cyberattacks can be used as a "short of war" tactic, in times of both conflict and peace. The UN's Envoy on Technology will be an important leadership role to evaluate what possible approaches and solutions there are for countries to protect themselves from state-sponsored cyberattacks.
In addition to undermining democratic institutions and leaders, mis- and disinformation are being weaponized by Russia on online platforms, and in international forums such as the UN, to spread false information about the role of international sanctions in worsening global food insecurity. For example, despite some claims to the contrary, agricultural products coming from Russia, such as wheat, are not subject to sanctions.
Expert Insights
"[The U.S.] is very concerned about a cyberattack. It's something that we addressed in the context of the Security Council as one of the possibilities that Russia would use against those that they see as a threat."
"We see the Russians attempting to use the United Nations, to use the Security Council to promote their misinformation and disinformation campaign all the time. Each time they've attempted to do it, we've exposed them for that. But it's something we absolutely must stay in front of. . . . We're fighting every day to counter their disinformation campaigns and to provide the information that countries need to assess what the Russians are putting out there."
Additional insights from FP
Geopolitics and the Battle Over Chips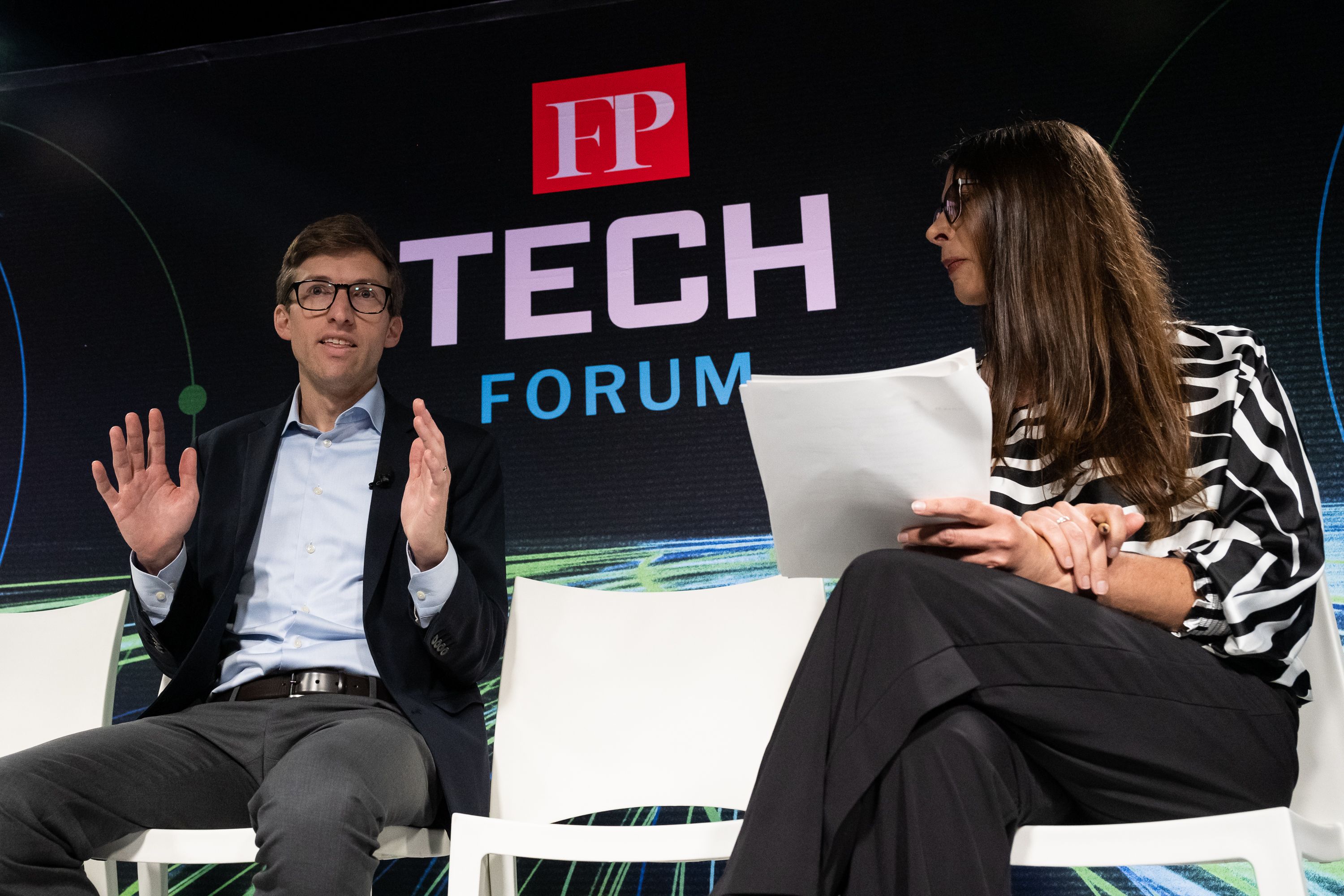 Participants
Chris Miller, Author, Chip War
Moderator: Allison Carlson, Managing Director, FP Analytics and Events
---
Key Takeaways
China is trying to move up the semiconductor value chain, where the U.S., Japan, South Korea, and Taiwan currently dominate, by investing billions of dollars into its domestic manufacturing capabilities. However, its progress is limited due to constrained access to key technologies and personnel.
One key challenge for U.S. policymakers is how to manage the global supply chain to ensure cost-effective chip production while mitigating China's access to critical semiconductor technology, which the Chinese Communist Party (CCP) can use to advance its civil-military fusion strategy.
One under-appreciated risk to the semiconductor supply chain is the potential for conflict in the Taiwan Straits. Ensuring diversification of the supply chain to move away from East Asia could help mitigate supply chain disruption risks.
Expert Insights
"What's new in China is the scale of government support, billions of dollars from national government funds, from provincial government funds. Capital investment is one of the ingredients you need to build a successful chip industry. . .China's pouring more money in now than any other government has subsidized ever before, and so there's a chance that this could present the ingredients for China to leap forward in semiconductors. If so, that would not only reset the balance of power in the industry, but it would also reset the balance of power more generally on the world stage."
"I think the biggest risk in terms of magnitude, hopefully not in terms of likeliness, is a war in the Taiwan Straits. If you thought the semiconductor shortage last year was bad, consider what the world would look like if Taiwan was knocked offline. . . . The economic cost would be tremendous, the technological setbacks would be immense, and we've done very little to prepare for that [possibility] thus far."
Additional insights from FP ON CHIPS
Strengthening Semiconductor and High-Tech Supply Chains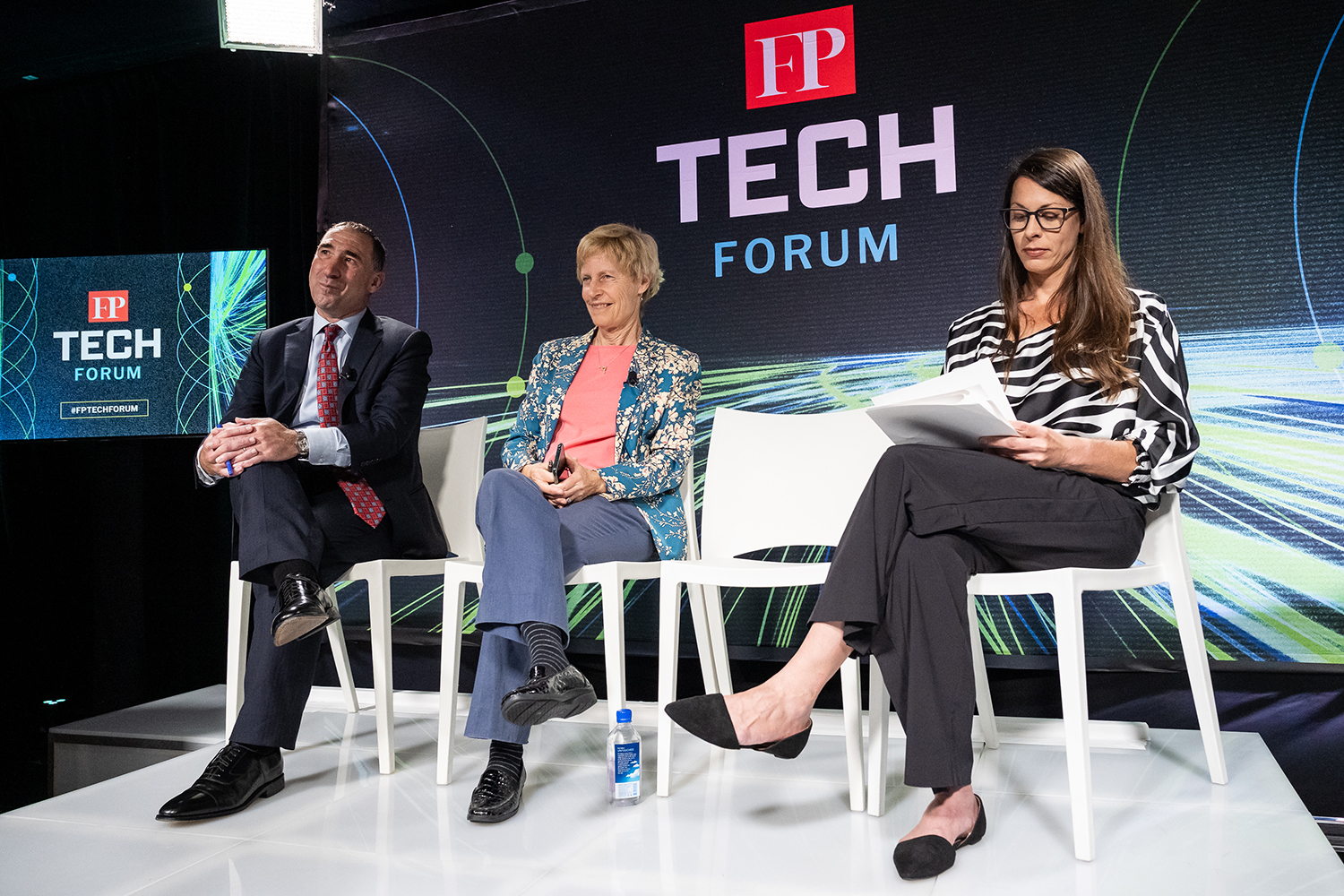 Participants
Stephen Ezell, Director, Global Innovation Policy, Information Technology & Innovation Foundation (ITIF)
Susan M. Armstrong, Senior Vice President, Engineering, Qualcomm Inc.
Moderator: Allison Carlson, Managing Director, FP Analytics and Events
---
Key Takeaways
The key chokepoints in the global semiconductor supply chain are due to industry decisions to prioritize economic efficiency over resiliency. Doing so has left the world exposed to numerous threats posed by climate change and conflict, but little has been done to build resiliency into the system.
In the short term, it is unlikely that countries will shore up all semiconductor manufacturing domestically. However, leveraging partnerships with other countries such as those in Asia, Latin America, and Europe will be helpful for the U.S. to strengthen the workforce and improve manufacturing capability and capacity.
Expert Insights
"I don't think [re-shorting supply chains] can be done. The CHIPS Act was important for educating policymakers and looking at reshoring some manufacturing. But we must have policies in place that understand that perhaps never, but certainly not in the next few years, will we be able to have the whole global supply chain on U.S. soil."
"It's also important to recognize that since every single industry today, from aerospace to solar panels, to cars, is a consumer of semiconductors, the ability domestically for firms to have access to world-leading ships provides those firms a first-mover advantage in their capability to innovate. So, leadership and semiconductor innovation are inexorably linked to the capacity of every downstream industry in an economy to lead at innovation as well. That's a key reason why it matters."
Additional insights from FP ON HIGH-TECH SUPPLY CHAINS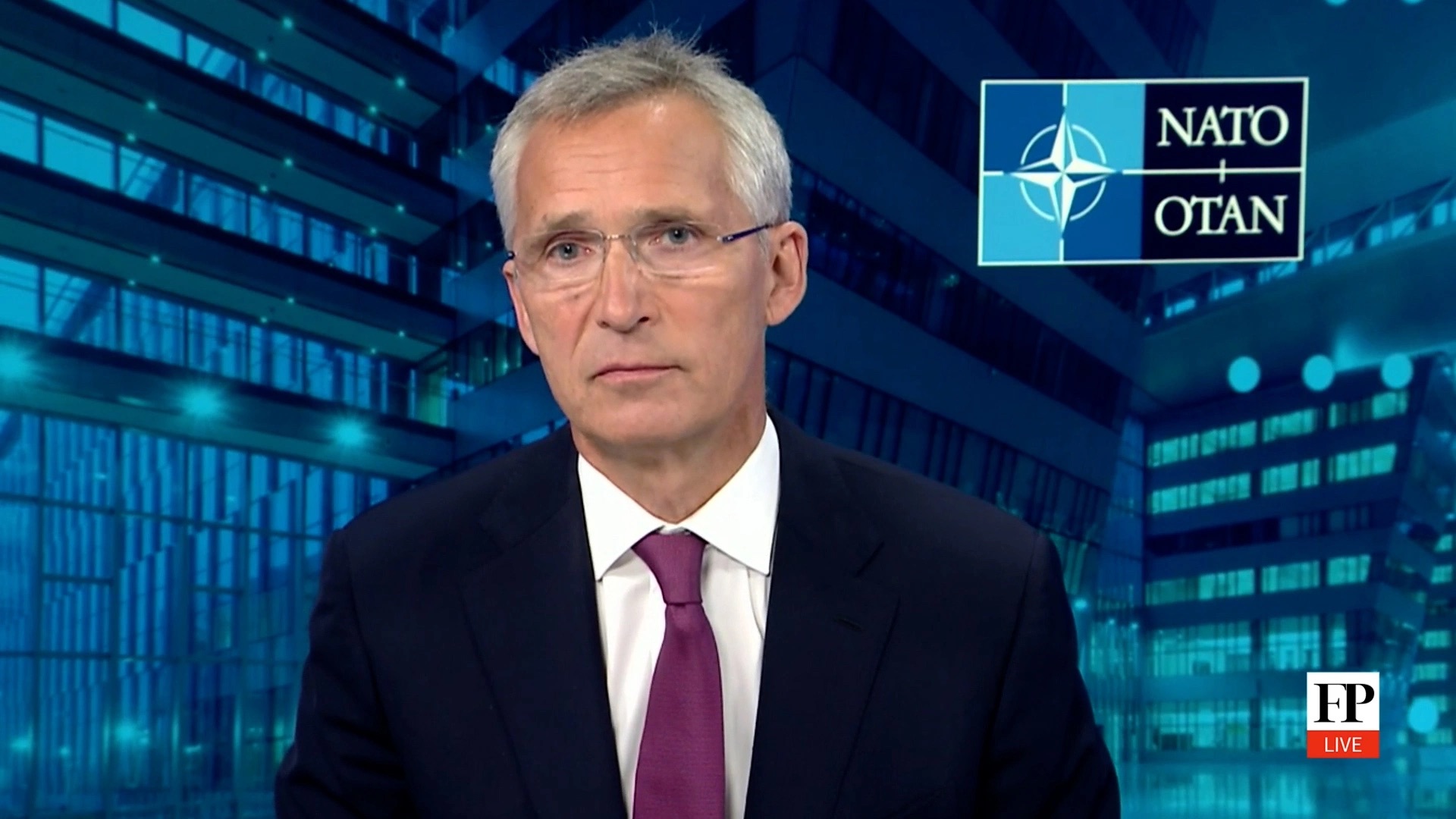 Participants
Jens Stoltenberg, NATO Secretary-General
Moderator: Ravi Agrawal, Editor-in-Chief, Foreign Policy
---
Key Takeaways
NATO's increased focus on China does not change the organization's purpose. NATO is increasingly focusing on the global threats and challenges China's presence and activities in the Arctic and Africa poses, as well as its recent efforts to control critical infrastructure may have on transatlantic security.
Competing technologically with China requires public-private partnerships. NATO, for example, is working with start-ups and major tech companies to bolster R&D in new technologies to maintain a military and technological advantage.
As sanctions severely limit Russia's access to critical technology such as semiconductors, NATO is actively monitoring the war in Ukraine for potential cyberattacks on critical military and civilian infrastructure.
Expert Insights
"[NATO] has maintained the technological edge over any potential adversary, and it is important that we do so also with new and disruptive technologies like artificial intelligence, autonomous systems, facial recognition, and all of these things combined and put into different modern weapons systems."
"We have the great advantage of being open, free, dynamic societies, and I believe that [in the long run] these societies are more creative and able to maintain the technological edge than more authoritarian systems."
Additional insights from FP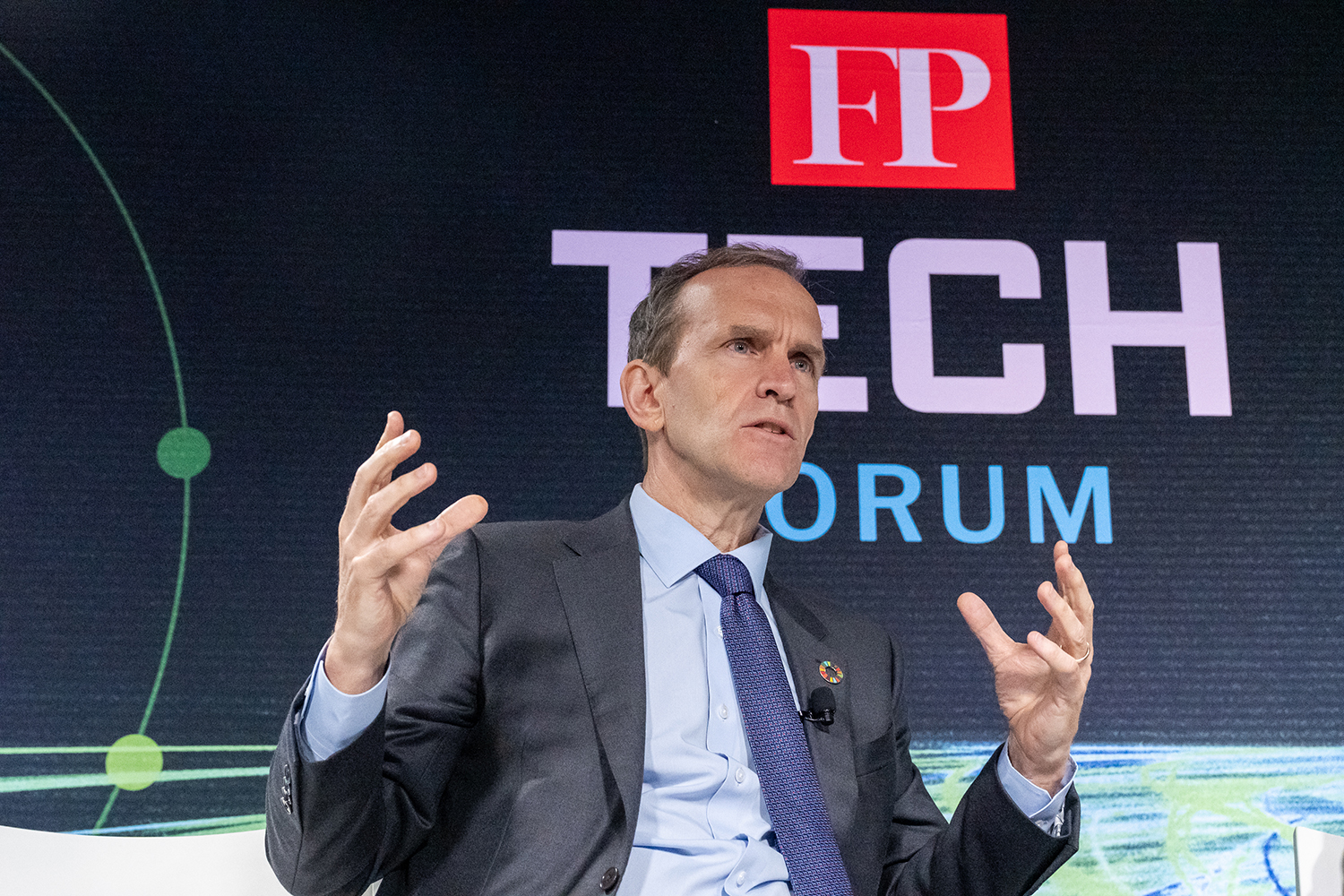 Participants
Kent Walker, President, Global Affairs, Google
Moderator: Ravi Agrawal, Editor-in-Chief, Foreign Policy
---
Key Takeaways
It's not enough for democracy to deliver for its citizens, it has to inspire. Now more than ever, private and public sector partners need to work together to ensure the benefits of technology are widely shared. People need to feel as though technology, and by extension, democracy is working for them.
The top priorities for internet governance are content moderation, privacy, competition, and global taxation. But navigating these areas requires thoughtful consideration of trade-offs across competing policy goals. For example, privacy rules restricting data sharing can clash with competition rules promoting data portability and open access. And rules seeking to promote free expression and access to information can conflict with rules seeking to eliminate offensive content.
Expert Insights
"We have this ugly word that covers a beautiful concept, which is glocal. How do you operate globally with frameworks that promote democracy and access to information but still respond to local needs without those local needs being used as a cover by authoritarian states to crack down on access to information for their people?"
"There are concentric circles of mis- and disinformation and foreign election interference. We spend a lot of time [at Google] working to help secure elections, from India to Europe to the United States, working with campaigns to increase digital security to make them and governments more resilient against cyberattacks, whether from bad actors within countries or from foreign state actors."
Additional insights from FP ON TECH AND DEMOCRACY
FP Analytics produced this synthesis report with support from